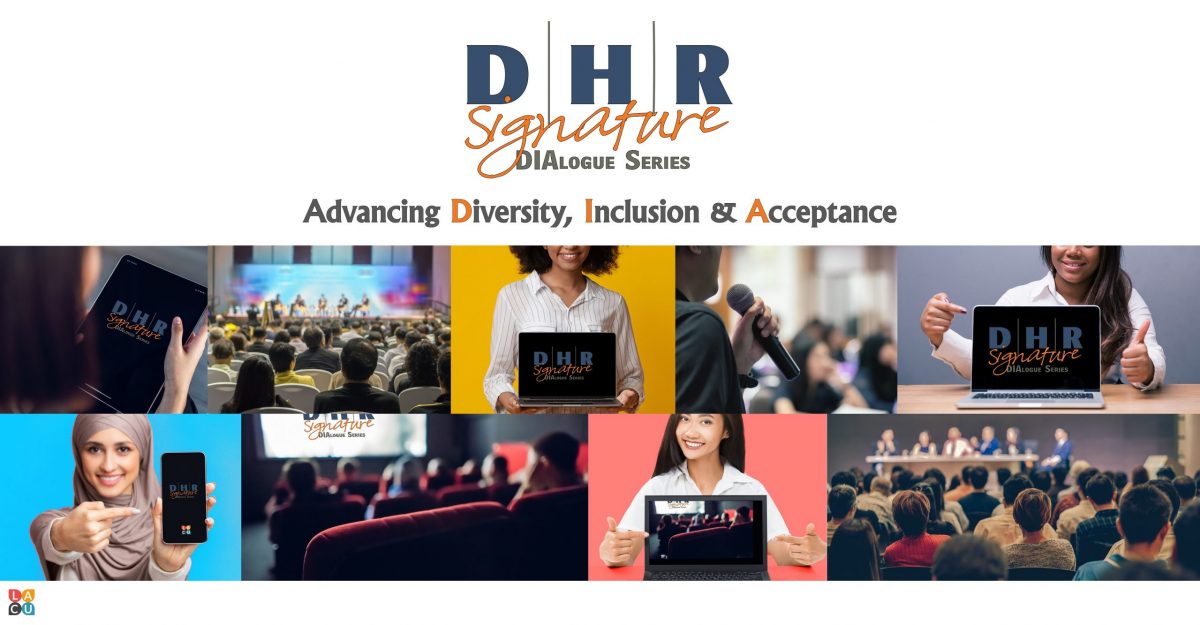 The DHR Signature DIAlogue Series brings together informed speakers and audiences to explore societal topics that impact the workplace and the public we serve. The DIA in DIAlogue stands for Diversity, Inclusion and Acceptance. The inaugural event, in July 2017, featured Supervisor Sheila Kuehl as guest of honor. The event included a documentary that chronicled parts of the Supervisor's journey as a CA state legislator when she and three colleagues steadfastly championed and passed landmark legislation protecting, what was then referred to as, LGBT rights. Since then, DIAlogue Series topics have included homelessness, addiction, mental health, gender equity, transgender youth, and systemic racism in the criminal justice system, health, and education.
LMS
The Department of Human Resources (DHR) is also pleased to announce that our Countywide DHR Signature DIAlogue Series is now available on the Learning Management System (LMS). If you have missed an event, want to view a particular DIAlogue again, or simply want to listen to a specific speaker, you may click on the links below:
Held one month after the killing of George Floyd in Minneapolis, the DIAlogue reflected on the current state of civil unrest, systemic racism, and what the County is doing to dismantle societal inequities.
County and national health experts discussed inequities in health outcomes based on race, as well as solutions our County health departments are pursuing.
The panel discussed the learning divide between how White students and students of color are taught and encouraged to succeed, what systemic racism looks like in the education system, and who is considered college material and why. Panelist also presented solutions for eradicating racism from the education system, ways in which teachers can create positive learning environments for all students, and what parents and caretakers can do to support their children.
Continuing the focus on Social Inequities, this event highlighted the various dynamics of employment. National and County subject matter experts discussed systemic barriers that could perpetuate higher unemployment rates and lower paying jobs for segments of our community based on race. Discussion also included specific actions being taken by the County of Los Angeles to ensure equitable hiring, retention and promotional practices.
In this final event of the social justice DIAlogue Series we celebrated Black History Month while still having an opportunity to hear from County leaders on the topic of racial equity, and from a nationally renowned social change advocate on how we can all breakdown barriers of structural racism.
During this event we celebrated Civil Rights leader César Chávez and heard from Supervisor Hilda Solis, Chair, Board of Supervisors. We also gained insightful perspectives from executive Latinx leaders of the County on civil rights challenges and gains for our diverse Latinx populations, in the workplace and the communities we serve.
This dialogue focused on the crises and impacts of hate crimes and incidents that have been on the rise against members of our AAPI communities since the onset of the COVID-19 pandemic. County, local and national subject matter experts came together to discuss: personal impacts of long held negative stereotypes of Asians that have fueled oral and physical assaults relating to the pandemic. The discussion included the importance of building a strong civil rights infrastructure for community based groups, the specific steps the County of Los Angeles is taking, and will continue to expand on, to address harassment and violence against members of AAPI communities.
Join the Department of Human Resources and the Los Angeles City/County Native American Indian Commission (LANAIC) for the first conversation in a multi-part series. Native American leaders will discuss the history of what is now known as Los Angeles County, and the laws, policies and factors that have led to the largest urban American Indian and Alaska Native population of any county in the United States.
Join us for the second event in a multipart DIALogue event series focused on the American Indian and Alaska Native community. This panel discussion will delve into Indian Child Welfare Act of 1978 including why the law was enacted, how it supports the preservation of Native American families, culture and tribal sovereignty and why it has been deemed the "gold standard" in child welfare policy. The panel discussion will be moderated by Pamela Villasenor (Tataviam), ICWA trainer for the County of Los Angeles' Department of Child & Family Services and include Kimberly Cluff (California Tribal Families Coalition), Dr. Carrie Johnson (United American Indian Involvement, Inc.), Commissioner Jacqueline Robles (LA County Youth Commission) and Robert Rodriguez (DCFS American Indian Unit). This is an important and timely conversation as the County continues to develop an anti-racist agenda and reimagines child welfare.
This DIAlogue focused on the arts as a mechanism for healing and social justice change. In partnership with the Department of Arts and Culture (Arts), the program discussed how art could be a great equalizer that brings diverse communities together and serves as a vehicle for social progress and empowerment. As a result of the Cultural Equity and Inclusion Initiative, Arts launched the Creative Strategist Program which brings artists and creatives together with County departments to develop artist-driven solutions to complex social challenges.
During this event, the Department of Human Resources engaged in a dynamic virtual DIAlogue on the U.S. Supreme Court. You'll hear from a constitutional law expert and examine the Court's decision-making process. You will also find out about how your voice plays a role in the constitutional process and why voting and civic engagement matter now more than ever!"
Signature DIAlogue Promotion Video
Signature DIAlogue Series Events Slideshow
To access a preview of  previous events, please click on the video below.
Los Angeles County boldly declares an anti-racist policy agenda, the DIAlogue Series is key in starting up the conversation and fueling a movement! Everyone who was not able to participate in the live events is encouraged to view these powerful dialogues.