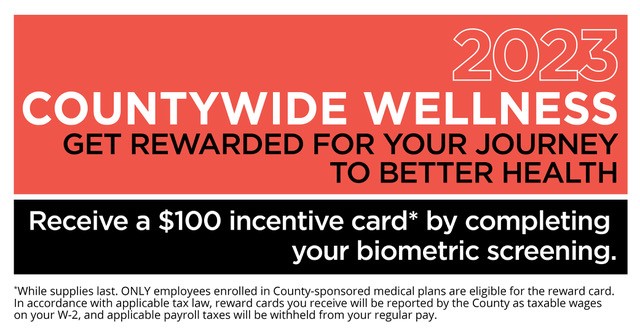 HOW TO EARN YOUR $100 INCENTIVE CARD 
Complete your medical plan's Biometric Screening and online Health Risk Assessment by 12/31/2023. For detailed information on your plan's requirements and instructions, view 2023 Wellness Incentives Instructions But Hurry! Rewards are limited.
Register an account on the County of Los Angeles Wellness Portal by visiting www.lacountygetsfit.com. If you already have an account, simply log in. To log in or register an account, view these instructions
Once logged in, confirm the Completion of your Health Insurance Specific Biometrics by following these instructions: 2023 Reward Program FAQs  Depending on your medical plan, please allow 2 to 8 weeks for processing and reward email notification.
Reward cards are awarded on a first-come, first-served basis and while supplies last. An employee could complete all the requirements, but still not receive an award if all reward cards have been exhausted.
Click on your health insurance logo and log-in to your member account to begin.

This wellness reward is available to County employees who are 18 and older and enrolled in a County-sponsored medical plan. Medical plan dependents are not eligible.
For the County of Los Angeles Wellness Portal technical support, email or call 800-435-5023, select option 2.