The County of Los Angeles recognizes that breastmilk is the optimal food for growth and development of infants and encourages employees and management to have a positive accepting attitude toward employed mothers and breastfeeding.  The County of Los Angeles promotes and supports breastfeeding and the expression of breast milk by employees who are breastfeeding when they return to work.  Breastfeeding reduces serious acute and chronic diseases, including obesity.  Healthier employees and babies mean fewer employee absences and lower health care costs.
All County Departments must provide a reasonable amount of break time and make reasonable efforts to provide the use of appropriate space for employees who desire to express milk for their infant child during work hours
Mother-Baby Friendly Workplace Award
The County of Los Angeles is a recipient of the Mother-Baby Friendly Workplace State Recognition Award presented by the California Breastfeeding Coalition.  This award recognizes companies that support their breastfeeding employees by providing written policies that support breastfeeding in the workplace, employee training on those policies, a private place to pump, and reasonable break time to pump milk.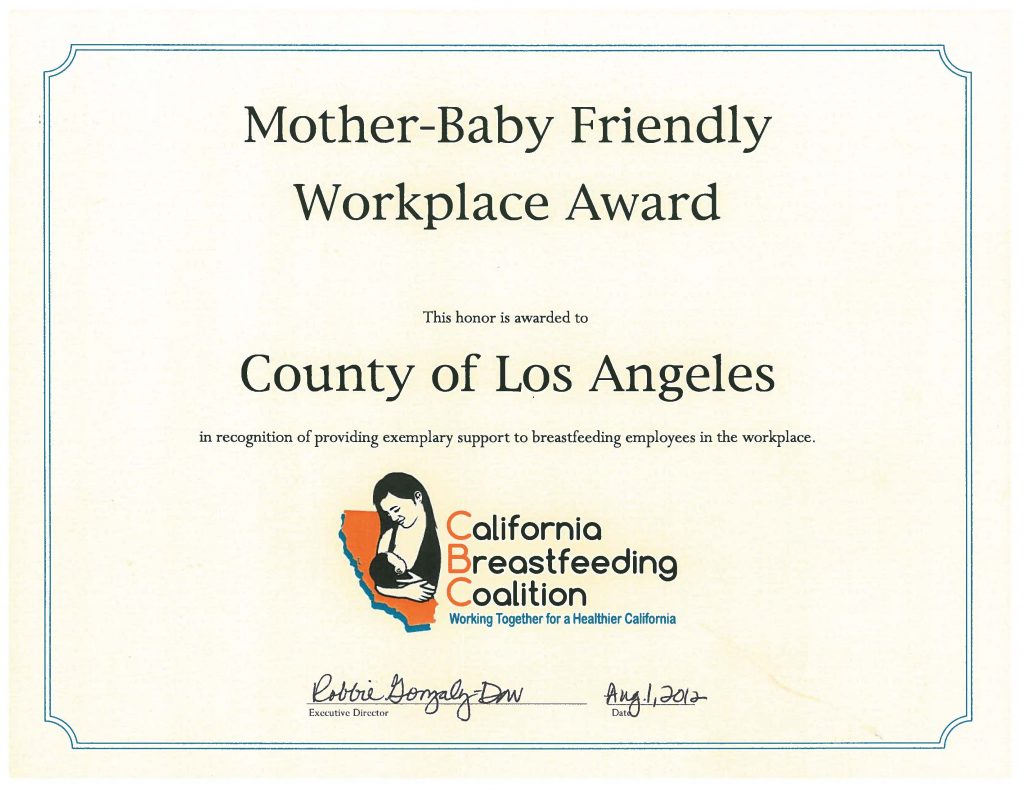 2016 BreastfeedLA Recognition Award
Presented to the County of Los Angeles at BreastfeedLA's year-end fundraiser gala, "An Evening of Giving," this award recognized honorees from the diverse Los Angeles area for their accomplishments and dedication to breastfeeding mothers, children, and families.
County Resources
County of Los Angeles Childcare The information on this webpage is intended to help County employees find appropriate child care and development services, evaluate different child care options, and identify related community services.  In addition, information about the County Dependent Care Spending Account (DCSA) which can be used to help pay for eligible dependent care expenses can be found here.
Frequently Asked Questions (FAQ)